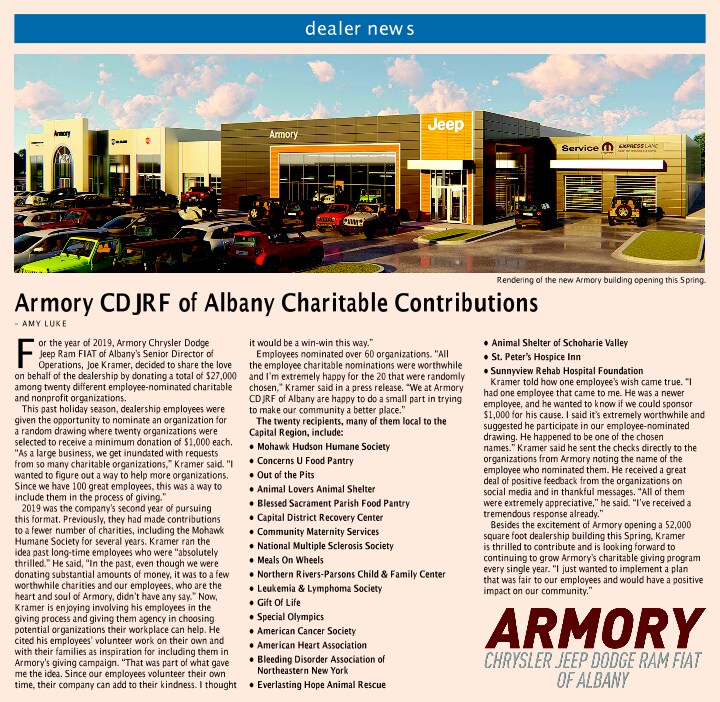 Since 2018, Armory Chrysler Dodge Jeep RAM FIAT of Albany's Senior Director of Operations and acting General Manager, Joseph Kramer, and his team have been sharing the love on behalf of the dealership by donating over $27,000 among twenty different employee-nominated charitable and non-profit organizations.
During the holiday season, employees are given the opportunity to nominate an organization for a random drawing where twenty organizations are selected to receive a minimum donation of $1,000 each.
This idea stemmed from Kramer wanting to figure out a way to help more organizations, while also keeping his employees involved in the process. "As a large business, we get inundated with requests from so many charitable organizations," Kramer said. "I wanted to figure out a way to help more organizations. Since we have great employees, this was a way to include them in the process of giving."
Kramer has enjoyed involving his employees in the giving process and giving them the opportunity to choose potential organizations their workplace can help.
Since 2018, the team at Armory has pursued this format of charitable giving and employee inclusion. Employees and their families' personal volunteer work was also an inspiration for starting and continuing Armory's campaign. The donations made by the dealership are a way to add to their employee's kindness.
Employees have nominated over 100 organizations, and the entire team at Armory CDJRF of Albany are happy to do a small part to make their community a better place. Some of the charities that have been recipients of Armory's Charitable Giving are:
Mohawk Hudson Humane Society
Concerns U Food Pantry
Out of the Pits
Animal Lovers Animal Shelter
Blessed Sacrament Parish Food Pantry
Capital District Recovery Center
Community Maternity Services
National Multiple Sclerosis Society
Meals on Wheels
Northern Rivers-Parsons Child & Family Center
Leukemia & Lymphoma Society
Gift of Life
Special Olympics
American Cancer Society
American Heart Association
Bleeding Disorder Association of Northeastern New York
Everlasting Hope Animal Rescue
Animal Shelter of Schoharie Valley
Pete's Hospice Inn
Sunnyview Rehab Hospital Foundations
The team at Armory CDJRF of Albany continues the tradition of Armory's Charitable Giving and will be choosing a new round of recipients each year. The involvement from the staff continues to grow, as well as the list of recipients, creating a positive impact on the Capital District's communities.